News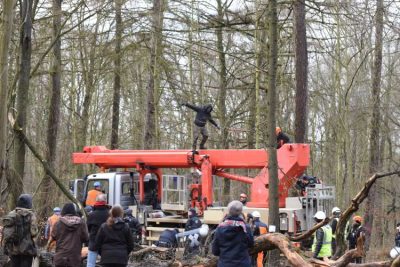 29. January 2018 (Source: Hambi-Blog) On January 22, the police tried in vain to clear the occupied barricades in the forest with an expensive action. Even the attempt to present the "violent ecoterrorists" to the present regional deputies of the SPD and AfD failed. For our resistance is colorful, courageous and broader than ever. Nevertheless, now 9 climate activists are in custody. Continue reading ...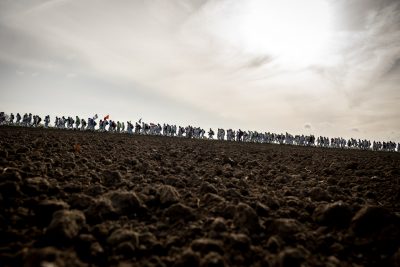 14. January 2018 The next Ende Gelände meeting will be from the 2-4 February 2018 in Essen. The perspectives within Ende Gelände for 2018 (and beyond) will be discussed. Continue reading ...
Lignite world champion hosts
climate conference
The international climate negotiations on the implementation of the Paris climate conference will take place in Bonn in autumn 2017. But right next door in the Rhineland coal mining area, Europe's largest CO2 emitter, the fuel most disastrous for the climate continues to be extracted and burnt. Germany is the world's
largest producer of lignite, a catastrophe for the climate.
Coal must stay in the ground if we want to avoid catastrophic effects on the climate! In 2017 we have the opportunity to make people aware of the enormous failures of German and international climate policy and enable an immediate end to coal.
Front line for fighting climate change
Government officials have been egotiating for 23 years and haven't managed to limit global temperature rise. And we hardly have any time to avoid crossing the 1.5 degree threshold. Germany will miss its 2020 climate targets. And climate change won't wait. The climate movement needs to embrace direct action more than ever.
System Change not Climate Change!
We can't tackle climate change or ensure global social justice without moving away from capitalism fuelled by fossil fuels. Deep socio-economic changes are needed to enable everyone to lead a good life.
We say
ENDE GELÄNDE
Last year 4000 people occupied the coal diggers in Lausitz (Lusatia) and blocked the coal mining infrastructure for over 48 hours. In 2017 we will show that neither we nor the climate will follow the snail's pace of the negotiations. We need to take action on climate every day.
Coal phase out is hands work
Together we will show the strength of our commitment to climate justice through civil disobedience in the rhineland lignite mining area on the second occasion in 2017: on 03rd to 05th November during the UN climate conference.
We'll keep our promise: we'll keep
coming until extraction stops!
Climate change doesn't wait!