Now all the more! – Call for Germany-wide day of action on Feb. 3th
(Source: Hambi-Blog)
On January 22, the police tried in vain to clear the occupied barricades in the forest with an expensive action. Even the attempt to present the "violent ecoterrorists" to the present regional deputies of the SPD and AfD failed. For our resistance is colorful, courageous and broader than ever. Nevertheless, now 9 climate activists are in custody.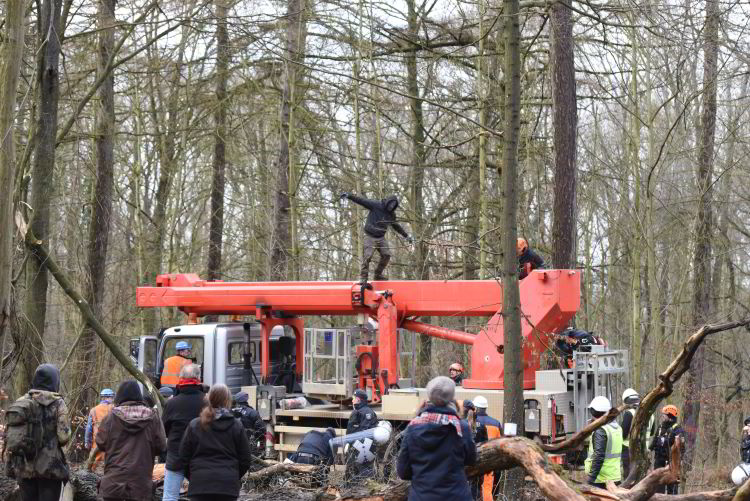 They are accused of resistance to law enforcement officers. For opposing their bodies to the evacuation machines. For having decided to peacefully but firmly demonstrate against lignite mining and for a climate-friendly world. Never before in the history of this forest occupation, so many activists were imprisoned at the same time.
The violence against them is violence against all of us. The repression that hits them is addressed to us all. It is a clear attempt to intimidate us and thus an attack on the entire climate justice movement. They try to set an example against the refusal of personal data, that, for example, at the last Ende Gelände action again proved to be an effective means. They try to take any form of resistance from us: in case of militant resistance we are isolated, criminalized and isolated. By their massive repression against our civil disobedience, we not only experience direct police brutality through brutal evictions and painful ED treatments, but we are also locked away indefinitely.
But as long as there is this injustice there will be resistance! If more and more of us are imprisoned, we have to be all the more determined against lignite power generation and the enforcement of corporate interests by the state.
It has not been just oaks for a long time. It's about testing and organizing resistance. And in order to keep it up despite intimidation, we will stay in action. That's why we call for an action Saturday. In solidarity with all the prisoners of the anti-lignite movement, but also with all others who are held in inhumane conditions all over the world.
On February 3th, thousands of people will make it clear throughout Germany in loud and colorful protest: "You can not break our resistance!" No matter in which city you are, it's time to take action. Whether in the form of vigils, demonstrations or the blockade of your local RWE power plants or offices, be creative.
Not only will RWE infrastructure be disturbed, it will also show how intersectional our struggle is. Therefore, the actions will also be pointed against repressive institutions such as jacks and courts, because without them it would be impossible for climate-damaging companies to continue destroying our climate despite our widespread protest. On Feb. 3th we'll show that we remain active despite and especially because of these intimidation attempts. Our solidarity against their repression. Especially now. System change, not climate change.
Free the Hambi 9!
Here you find ideas for the action day:
http://hambachforest.org/blog/2018/01/27/take-action-freehambi9/
Write letters to the Hambi 9!
Infos on how to you can find here (scroll down for english version):
https://abcrhineland.blackblogs.org/
#FreeHambi9 #JetztErstRecht #hambibleibt